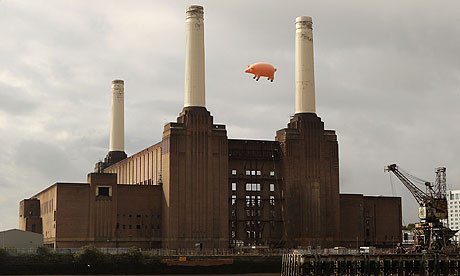 To mark the reissue of Pink Floyd's back catalogue, the front cover of their Animals album is being restaged in London on Monday.
A 30ft-long inflatable pig has been tethered above Battersea power station, recreating the famous image devised by Roger Waters to illustrate the 1977 concept album.
As album covers go it's a striking one. The Orb paid tribute to it on the cover of their album Live 93, with a sheep in place of the pig, and a recreation similar to that happening on Monday could be spotted briefly in the background in the film Children of Men.
Doom-mongers have been predicting the death of album art for years, as the large expanse of the vinyl sleeve gave way to the CD case, and subsequently the measly thumbnail jpeg.
Have any recent albums had sleeve art that struck you as particularly good? What, for you, is the best album cover of all time? And if you were to recreate any cover image, which would it be?